Happy Summer everyone! Where the flowers go into full bloom and the birds are singing away in the warm sunshine, who wouldn't love summer? Plus, you can't forget about the no homework, either!
But Summer also means Vacation and going to places of the unknown, whether or not it's in real life. In fact, most are probably book trips. They're always enjoyable. :)
This year is my first year hosting the Summer Reading Challenge. If you have any tips or ideas, feel free to comment away! Also, if any authors would like to donate any ebooks for the prizes, feel free to do so as well. :)
Details, Details, Details - The Fun Stuff
The Summer Reading Challenge begins

June 3

and ends September 9, 2013.
Can include books from another Challenge or Reading Club (Teen Summer Reading Club, for instance).
ARCs can count. But there's a catch. The final edition (meaning the actual date when it goes to the public) has to be during the challenge. For example, if it's a book published in October and you post the review in September, it doesn't count if the challenge is over. Sorry!
Reviews have to be posted after the start date. If there's no review, it doesn't count. This is to ensure there are no peeps out there who claim to read 50 when they only read 10.
To be eligible, you'll need to make a post linking back to here and place your link in the widget below.
There's no deadline for sign ups. You can start now (though the reviews have to be posted after June 3) or start in July.
At the end of the challenge, you'll need to update your post with the list of all the books that you've read during the challenge (with updated review links) and leave a link in the comments.
The Goal
My personal goal this summer is to read 15+ books, but it varies by Participant. Making a list is optional. Also optional: Following Bookwyrming Thoughts via NetworkedBlogs, Email, Facebook, Bloglovin', etc. (It might help when it comes to the giveaway, though.)
Feel free to also use the button and add it to your side bar! If there are any questions, please don't hesitate to contact me - my virtual door is open for knocking (to the point of no spam, of course!). :)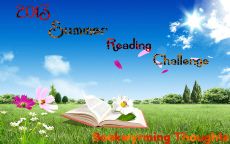 ~Happy Reading!