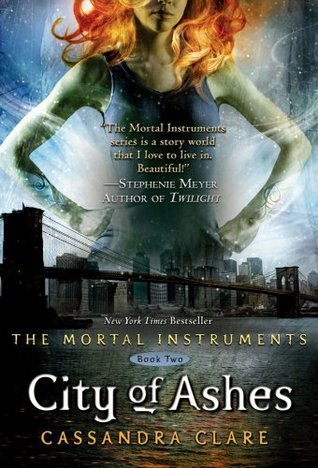 The Mortal Instruments #2
Author:
Cassandra Clare
Publication Date:
March 25, 2008
Publisher:
Margaret K. McElderry Books
Clary Fray just wishes that her life would go back to normal. But what's normal when you're a demon-slaying Shadowhunter, your mother is in a magically induced coma, and you can suddenly see Downworlders like werewolves, vampires, and faeries? If Clary left the world of the Shadowhunters behind, it would mean more time with her best friend, Simon, who's becoming more than a friend. But the Shadowhunting world isn't ready to let her go — especially her handsome, infuriating, newfound brother, Jace. And Clary's only chance to help her mother is to track down rogue Shadowhunter Valentine, who is probably insane, certainly evil — and also her father.
To complicate matters, someone in New York City is murdering Downworlder children. Is Valentine behind the killings — and if he is, what is he trying to do? When the second of the Mortal Instruments, the Soul-Sword, is stolen, the terrifying Inquisitor arrives to investigate and zooms right in on Jace. How can Clary stop Valentine if Jace is willing to betray everything he believes in to help their father?
In this breathtaking sequel to
City of Bones
, Cassandra Clare lures her readers back into the dark grip of New York City's Downworld, where love is never safe and power becomes the deadliest temptation.
When I mentioned (did I?) I would get back to
The Mortal Instruments
in about a month or two, I never thought I would come back... 5-7 months later. At least I don't have to wait anymore. ;)
City of Ashes
is actually set not too long after
City of Bones
. Clary's mother is still in a coma, and Clary is hoping whatever happened in Book 1 is all over so she can have a normal life again. Yet that's not happening since Downworlders are being murdered, and shortly after, another of the Mortal Instruments is stolen. Being Valentine's son and a Shadowhunter his entire life, Jace is obviously looked upon as the culprit.
I didn't exactly like Clary in this one. As Lupe – by the way book twin, this ending is a proper cliffhanger. Unlike
City of Bones
. That wasn't much of a hanger. – warned me, she was frustrating. Although I didn't exactly find her TOO frustrating. In the romance department, Clary was definitely frustrating. But so was Simon. All of sudden they go from friends to girlfriend and boyfriend after some sort of accidental like make-out session on a sink. Basically I'm all, "wait... when did they become girlfriend/boyfriend status? I don't recall that happening, so I must have missed something. But I'm too lazy to go back because apparently I read that kissing scene not too long ago and my memory isn't THAT terrible."
Oh, and then she starts playing matchmaker
View Spoiler »
after Simon breaks up with her
. Ms. Fray, it is NOT the time to play matchmaker. At least, in my little opinion. -_-
Then there's Magnus. What can I say about him? He's just awesome. Maybe it's because I already know him well from
The Infernal Devices
and he's like a friend almost. Plus his HUMOR. "You tried to drink the East River."
Clary: Other crack teams get bat boomerangs and wall-crawling powers; we get the Aquatruck.
Magnus: If you don't like it, Nephilim, you're welcome to see if you can walk on the water.
There's also Jace. I think I'm warming up to him and that's a bad sign. A very bad sign. Actually, it's not a bad sign because that means
The Mortal Instruments
has a cocky dude who doesn't exactly need an ego check since it's amusing. But I'm curious... have we seen this line before, only it was "Have I got something on my face?"
You're staring at me. Why are you staring at me? Is something wrong?
It may have taken me awhile to come back to
The Mortal Instruments
, but
City of Ashes
wasn't exactly Clare's best. I would have loved to see more of Clary not worrying about choosing between Simon and Jace though. Less worrying, more doing. Isn't that how the saying goes?
There's more to parentage than blood.
4 Owls
Other Reviews:
Summer Reading Challenge Giveaway!