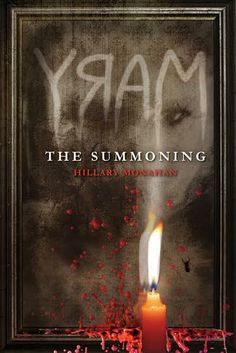 Bloody Mary #1
Author:
Hillary Monahan
Publication Date:
September 2, 2014
Publisher:
Disney Hyperion
There is a right way and a wrong way to summon her.
Jess had done the research. Success requires precision: a dark room, a mirror, a candle, salt, and four teenage girls. Each of them--Jess, Shauna, Kitty, and Anna--must link hands, follow the rules . . . and never let go.
A thrilling fear spins around the room the first time Jess calls her name: "Bloody Mary. Bloody Mary. BLOODY MARY." A ripple of terror follows when a shadowy silhouette emerges through the fog, a specter trapped behind the mirror.
Once is not enough, though--at least not for Jess. Mary is called again. And again. But when their summoning circle is broken, Bloody Mary slips through the glass with a taste for revenge on her lips. As the girls struggle to escape Mary's wrath, loyalties are questioned, friendships are torn apart, and lives are forever altered.
A haunting trail of clues leads Shauna on a desperate search to uncover the legacy of Mary Worth. What she finds will change everything, but will it be enough to stop Mary--and Jess--before it's too late?
Advanced copy provided by Disney Hyperion for review via Netgalley – thanks!
I don't know the precise reason why I actually requested
The Summoning
in the first place. I do know that I must have been really intrigued by the idea of a retelling of Bloody Mary and maybe just wanted a break from the influx of YA books that have some type of romance running about. Or, I just wanted to measure Hillary Monahan's debut novel with a scare-a-meter.
The first in the
Bloody Mary
series follows Shauna O'Brien, who decides to join with her 3 friends, Jess, Anna and Kitty to summon Bloody Mary, a legend that has been around since the 1960s with rumors that the person is someone who died near the end of the Civil War by the name of Mary Worth. As a result of summoning Bloody Mary, the spirit manages to go free from its rightful place within the boundaries of a mirror and begins to haunt the 4 girls, Shauna being her main victim.
Possibly what Mary so scary is the very fact she pops out everywhere almost and locks doors/windows. As the author so puts it in a sentence...
Mary was appearing without a summoning, manipulating objects, haunting glass, and skipping from surface to surface.
I did have a problem with Mary's abilities though. While it certainly puts a wow to the scare factor, Mary seems a little... too powerful. Reflective object manipulation? That's almost everything if you ask me. Computer/Tablet screens, washers/dryers, refrigerators, windows, doorknobs, lambs, flash drives, scissors, transportation, sinks, etc. So not only does the haunted have to live in isolation to protect everyone they love, but s/he have to live smelling like poo and crap for the rest of their lives because they can't take a decent shower?
Somehow, I don't think Mary qualifies as a ghost now. More like a demon in my humble opinion. While that may scare readers at first, eventually some will catch on and Mary won't be as scary.
The Summoning
is basically the ultimate friendship test for the main characters – Jess, Anna, Kitty and Shauna have been best friends for quite awhile, so when Shauna begins to see Mary everywhere, they have to try to work together to get rid of the ghost.
View MAJOR Spoiler »
Apparently this test failed, because Anna gets taken. Once you're gone, you're technically gone. It's not like doing anything would have brought Anna back. Although I did like her, so it was actually sad to see her get taken through the mirror by a ghost.
So the ultimate question from the beginning: how well can Hillary Monahan scare me? Quite well, but I managed to sleep
very
well. While I'll certainly applaud on what a chilling twist on an urban legend
The Summoning
was, Mary needs to be toned down a bit to make her more believable.
4.5 Owls