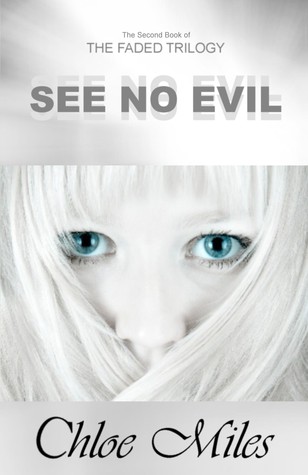 Faded #2
Author:
Chloe Miles
Publication Date:
February 26, 2013
Publisher:
Self Published
"You could have perfect vision and still not see the evil in someone. Well, at least not want to see it, anyway."
The enthralling story that was built in Faded continues in exciting and unexpected ways in this action-packed sequel in The Faded Trilogy.
Are Savannah's dreams predicting the death of someone close to her? Or is it someone even closer than she thinks? Can Savannah save one of her best friends—and stop another from suffering the same fate?
Savannah will need more strength than she ever has before if she is to defeat The Forces for good, and with Hunter's love and encouragement to believe in herself, she finds the confidence she never knew she had.
However, while The Chosen Ones become more confident in their roles as protectors of Fort Everwick, The Forces only become more evil—and prove they will stop at nothing to win.
What will Savannah do that will change everything and determine her position of power over The Forces forever—and prove to them that she just might have it in her to beat them at their own game?
But while becoming their biggest threat, it also reinforces Savannah's position as Gwen's most cherished target.
Review copy provided by the author
See No Evil
is the second novel in Chloe Miles'
Faded
trilogy, with the Chosen Ones trying to get Logan back after the events near the end of Faded. Logan, on the other hand, is trying to get Abigail to leave the Chosen Ones and join the Forces.
The story starts out with a few scenes from later in the book, and Miles blends the scenes together well enough that they flow smoothly – they go together really well despite the fact between the few, snippets are taken out so as not to give away in spoilers. Unfortunately, while the prologue is written really well, this simply gives away the answer to Savannah's visions quickly, and possibly the entire plot as well.
See No Evil
isn't too action-packed, but it's more than
Faded
and enough so it's enough so it's not too much (like
Au Revoir, Crazy European Chick
. That was WAY too much action). Savannah is stronger heroine than when we first met her back in the first novel,
Faded
. She's supportive while Abigail is grieving, even though Abigail is completely oblivious whose side Logan is on. In fact, Logan even gives himself away by accident! Yet while she's confused, she later brushes it aside.
The attacks have also gotten more creative in a way, though not by much. There are less doors shutting by themselves, no more windows being involved, but there are still just as much storms, winds, lightning, and flying furniture. The endings for those attacks tends to be the same as well – the Forces run away. For a name like the Forces, you would have thought they were a force to be reckoned with. Legit name for a group who run away like cowards. :p
While I really enjoyed
See No Evil
, I feel as though something is missing. I feel very much as though Miles' writing is more for... middle grade due to the life lesson like writing. Something bad happens, the thing gets resolved, then the characters come together and talk about it.
4 Owls