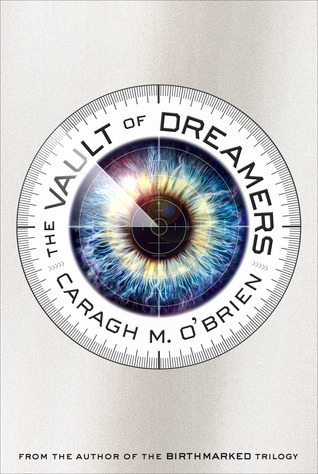 The Vault of Dreamers #1
Author:
Caragh M. O'Brien
Publication Date:
September 16, 2014
Publisher:
Roaring Brook Press
From the author of the Birthmarked trilogy comes a fast-paced, psychologically thrilling novel about what happens when your dreams are not your own.
The Forge School is the most prestigious arts school in the country. The secret to its success: every moment of the students' lives is televised as part of the insanely popular Forge Show, and the students' schedule includes twelve hours of induced sleep meant to enhance creativity. But when first year student Rosie Sinclair skips her sleeping pill, she discovers there is something off about Forge. In fact, she suspects that there are sinister things going on deep below the reaches of the cameras in the school. What's worse is, she starts to notice that the edges of her consciousness do not feel quite right. And soon, she unearths the ghastly secret that the Forge School is hiding—and what it truly means to dream there.
Advanced copy provided by Macmillan for review via Netgalley – thanks!
I've always wanted to read a book about dreams. Nothing too specific – but the synopsis for O'Brien's latest novel piqued my interest because it was just that. Dreams. A book on dreams may have been on my reading bucket list of unique books, and now I can happily cross it off. An impossible bucket list item is to complete my TBR pile. If not, at least 50% – that'll only happen if I add no more books, which isn't happening anytime soon.
The Vault of Dreamers
had a completely different concept that I had been dreaming of, but despite the fact I was thinking of something else entirely, the idea behind
The Vault of Dreamers
was perfect. Dreams = Hope. What better way than placing that in a prestigious school of art, competition, and to top it off – a reality show? Definitely a dream come true for some – as much as I want to try my hand in acting one day, a camera stalking my every move 24/7 is NOT my dream come true.
Rosie Sinclair is one of the students attending the school – called the Forge School, and the show is called the Forge Show. Not exactly a creative name in my opinion (Forge???). Though, as you read the book and as Rosie finds out what's
really
happening at night at the Forge School, the name makes a lot of sense. Especially when you take a peek at forge's etymology.
Rosie's sort of different from other characters I read – she's rebellious from the start. She doesn't find anything amiss among the school at first, so her breaking rules straight from the beginning is simple – she misses night. Most I come across are say... going with the flow. Everything's happy until something sinister happens or said character finds something sinister about something. Rosie, well, she's all "I'm a rebellious person, and I'll be breaking rules after laying low for awhile."
The voices Rosie has is really weird as well. O'Brien writes those as though Rosie is two people – she even replies with her thoughts to that voice! If that's not odd, I don't know what is. Actually, I can think of a lot of other things that can be more odd, but that's beside the point.
What I still don't get, however, is why Rosie went to the Forge School when a) she hates cameras and prefers being behind them instead and b) she knew full well when she applied that she would be watched 24/7. The Forge Show isn't one of those shows that go blah – it's widely popular. And with the Internet still existing in Rosie's world, why isn't there a YouTube of sorts? Is everyone that addicted to The Forge Show that there's nothing else to watch? Or is it just the thrill of watching 12 hours – even AGT isn't that long! – of students in grades 10-12 competing for fame? No wonder reality shows are flying up the charts – guys, what happened to the wondrous days of Code Lyoko? :p
As much as I enjoyed following Rosie around as she tries to find out what's going on at night at The Forge School, I was sort of disappointed in the ending. Well, the last chapter, which technically counts as the end. The run down?
View Spoiler (WARNING: IT GIVES AWAY THE END) »
Rosie gets caught breaking the rules twice, finds out the actual truth of what's going on, dean and co tries to stop her, which results in her being whisked away from the world forever. Essentially, Rosie is dead, yet not dead. Until she's 18, but how much time passes between getting caught and the last chapter, I have no clue. The ending's all very open-ended – which CAN have it's perks – but I don't know what's going to happen with Rosie. However... it's rare the villain wins.
The Vault of Dreamers
will most likely appeal to those interested in reading about a reality show where everything is not what it may seem behind cameras. I may look into O'Brien's other works.
3.5 Owls