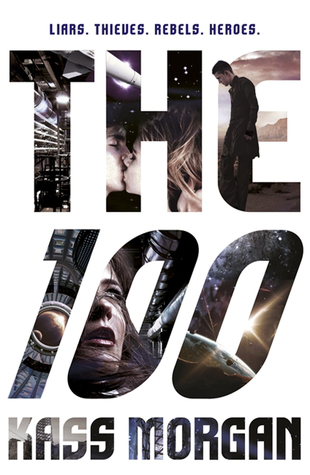 The 100 (The Hundred #1)
Author:
Kass Morgan
Links:
The Book Depository
Publication Date:
September 3rd 2013
Publisher:
Little, Brown Books for Young Readers
Reviewer:
Ella
In the future, humans live in city-like spaceships orbiting far above Earth's toxic atmosphere. No one knows when, or even if, the long-abandoned planet will be habitable again. But faced with dwindling resources and a growing populace, government leaders know they must reclaim their homeland... before it's too late. Now, one hundred juvenile delinquents are being sent on a high-stakes mission to recolonize Earth. After a brutal crash landing, the teens arrive on a savagely beautiful planet they've only seen from space. Confronting the dangers of this rugged new world, they struggle to form a tentative community. But they're haunted by their past and uncertain about the future. To survive, they must learn to trust - and even love - again.
Review copy provided by Little, Brown Books for Young Readers for review via Netgalley – thanks!
The 100, is one of those books where you're either going to a), be totally in love with it, b), want to roast it slowly over a hot spit. or c), end up doing both a) and b).
Can you guess what little bookwyrm got c)???!!!!! OH WHAT A CLEVER LITTLE WYRMY YOU ARE!
There are four POVs in this book. I don't know about you, but nothing makes me more crotchety then to many POVs, and while it did get frustrating whenever we got to an interesting bit in say, Clarke's chapter, THE CHAPTER WOULD END AND WE'D HAVE TO READ THROUGH 3 OTHER PEOPLES CHAPTERS BEFORE WE FINALLY GOT BACK TO CLARKE.
I honestly didn't feel for any of the main characters much, except for Clarke to feel sorry for her, because WELLS YOUR PATHETIC STALKING OF CLARKE IS JUST GETTING CREEPY NOW AND COULD YOU PLEASE JUST STOP, and Glass, who is pretty much
as
fragile as glass. No kidding. I pitied her for her lack of backbone and the grief she's going to get hurled at her in the second book. Also her tastes in 'true love' which I didn't agree with. Luke is an idiot and I wouldn't mind seeing him drop dead of something horrid in the next book. Bellemy suffers from plonker syndrome in which he can't do ANYTHING AT ALL except be an idiot, fight with Wells and chase Clarke, and Wells,
well
, you already know what I think about him. His obsession with trying to make Clarke love him again was not only pathetic but realllllly creepy. As in run awaaaaaay, run FAAAAAR away, little Clarke, before Big Wells eats you up.
So after all my scathing and whining, did I actually enjoy The 100?
Yes! I actually did!

The 100 had many, many, MANY things that bugged the hell out of me, but the thing is...I was to busy enjoying myself throughout the book to care MUCH (big emphasis on much).
So yes, I half loved this book and half wanted to roast it's brains out for it's stupidity.
I can definitely see WHY people despise
The 100
, it's not exactly award-winning writing, the plot is basically ROMANCE, and the characters actions throughout the book don't exactly hit the wow-factor.
But basically: This is book that's great to get you out of a reading slump.