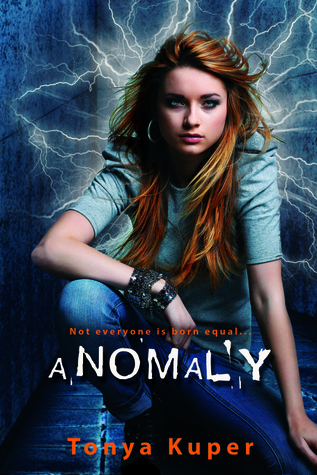 Schrodinger's Consortium #1
Author:
Tonya Kuper
Links:
Goodreads
|
Amazon
|
Barnes & Noble
|
Kobo
|
iTunes
Publication Date:
November 25, 2014
Publisher:
EntangledTeen
Reviewer:
Sophia
Reality is only an illusion.
Except for those who can control it…
Worst. Birthday. Ever.
My first boyfriend dumped me – happy birthday, Josie!- my dad is who knows where, I have some weird virus that makes me want to hurl, and now my ex is licking another girl's tonsils. Oh, and I'm officially the same age as my brother was when he died. Yeah, today is about as fun-filled as the swamps of Dagobah. But then weird things start happening…
Like I make something materialize just by
thinking
about it.
When hot badass Reid Wentworth shows up on a motorcycle, everything changes. Like,
everything
. Who I am. My family. What really happened to my brother.
Existence
. I am Oculi, and I have the ability to change reality with my thoughts. Now Reid, in all his hotness, is charged with guiding and protecting me as I begin learning how to bend reality. And he's the only thing standing between me and the secret organization that wants me dead…
Review copy provided by EntangledTeen for review during the blog tour
BREAKING NEWS: Sophia is finally coming across some good books.
UNBREAKING THE NEWS: Sophia is probably going to find something bad about said book. She wonders why Optimistically Lol Lupe is still friends with her.
Should you find this review on Amazon – haha, I'm behind on Goodreads reviews since July! – those above two sentences will not be found
I loved
Anomaly
. But I also don't love it. Is it possible to feel both?
The idea behind Anomaly is amazing, despite the names, to which Sarcastic Sophia will be rearing her head (especially at one name...) and Lupe will be shaking her head at Sarcastic Sophia.
Occuli – I thought this was "occult." Whoops. Technically, it IS a group of people relating to the supernatural...
Planck – I could have sworn I saw the word "Plancks" as planks. Funny thing about the name "Planck?" It's literally pronounced "plank." Oh, and there's a physicist named that. Thus, all us humans, because the Occuli call humans "Plancks," are planks. We're all wood. Why am I writing this review again?
But really, that's only a minor thing. Sort of.
I really feel like the process of using two POVs went well – that Reid's version has a purpose to the entire story rather than just seeing things from Josie's view. He seems to fill in the blanks in her past that readers normally wouldn't find out from Josie alone, ones that even
she
doesn't know the truth about until later, such as her dead older brother. Nick would have just been a mysterious person if it were only Josie, because we don't actually find out the full story until later in the book, dropped like a bomb instead bits and pieces of little information.
I loved Josie as a character – she's a lot different from other characters I usually come across in books. I love how, despite the fact her world is turned upside down, she actually subconsciously knows about the Oculi world and how it works – she just didn't know about it and thought it's physics. I love her reaction to the entire the situation – it's really nothing I've seen before. Most of the time it's either no panic (99.9% of the time) or panic (even THAT'S rare). Josie reacts by mumbling random facts and trying to make it all rational. She even thinks of the most random facts at the brink of death. It's adorable if you ask me.
I didn't really like the ending though. There's a bit of a moment where I'm understanding everything going on and then one sentence throws me off completely and I'm not sure I'm able to backtrack – I sort of gave up trying to understand what's going on at the particular scene.
"I had to make it look like it was me. Needed to be a decoy. I can take it now," she whispered.
The ending also felt like a Hunger Games Arena, only it's "CHOOSE YOUR OWN ADVENTURE." Sadly, I can't be the main character and choose my fate. It's already written out. Ah, Goosebumps: Choose Your Own Adventure books. Good times, good times.
I feel like
Anomaly
was more focused on Josie's training to get a serum to the hands of a Vice President at an awards ceremony than much of anything else aside from learning a bit of Nick's past, which I still think I need more information about.
I also want to know more about the Consortium and Resistance and their backgrounds. It seems to be a bit close minded – "The Consortium is bad! The Resistance is good!" It's all based on information from years ago, from Josie's parents, and it seems to be implied that her father is now a part of the Consortium despite the fact we are told Josie's parents are one of the founders of the Resistance. I want to know more about both – is the Resistance who they say they are? Are they really wanting what's best for humankind (us flat wooden boards) AND all Occuli, or is this just a ploy?
With the way the storyline seems to be going in the next book, I'm hoping Kuper will tell us more about the Resistance and Consortium – you can't go wrong with the main character getting a view of one of the Resistance's places, or perhaps the Resistance's base, or can you? Otherwise,
Anomaly
is a great start to a (hopefully) great series!
4.5 Owls
Author Bio
Tonya Kuper's debut, ANOMALY, the first in the Schrodinger's Consortium young adult scifi trilogy, releases November 2014 by Entangled Teen. She lives in Omaha, NE with her two rad boys and husband, is a music junkie, and a chocolate addict. Star Wars & Sherlock fan.
Author Links:
Website | Goodreads | Twitter | Facebook
Giveaway
a Rafflecopter giveaway