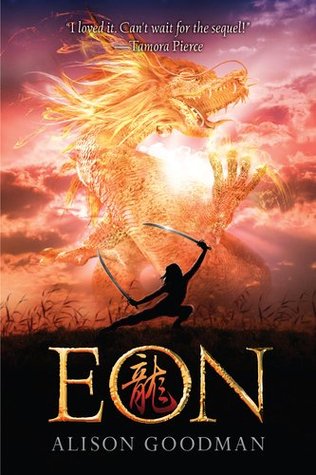 Eon #1
Author:
Alison Goodman
Publication Date:
August 31, 2010
Publisher:
Firebird
Reviewer:
Sophia
Swordplay, dragon magic – and a hero with a desperate secret
Twelve-year-old Eon has been in training for years. His intensive study of Dragon Magic, based on East Asian astrology, involves two kinds of skills: sword-work and magical aptitude. He and his master hope that he will be chosen as a Dragoneye--an apprentice to one of the twelve energy dragons of good fortune.
But Eon has a dangerous secret. He is actually Eona, a sixteen-year-old girl who has been masquerading as a boy for the chance to become a Dragoneye. Females are forbidden to use Dragon Magic; if anyone discovers she has been hiding in plain sight, her death is assured.
When Eon's secret threatens to come to light, she and her allies are plunged into grave danger and a deadly struggle for the Imperial throne. Eon must find the strength and inner power to battle those who want to take her magic...and her life.
The entire idea behind
Eon
, according to the Alison Goodman's note at the very last page of the book, was
inspired by the cultures and histories of China and Japan
. Of course I would be completely excited because I'm Chinese myself and dragons are wonderfully majestic and mystic creatures. I had to read it!
I also had to read it because I would then have the opportunity to not only debate with the only guy in book club (who actually recommended the book to me in the first place... are you happy?), but I would also get to throw a book at said guy. Actually, it would be throwing the book first, run away, and then
maybe
debate about it. But one can't debate when one runs away.
In reality, I did get the chance to smack him with
Eon
. He then "abused" me with his scarf throughout Lit class. One day, I plan to steal that scarf and hide it.
I don't intend to ever give it back either.
Eon
is a fabulous idea. And I mean,
phenomenal
. The best dragon book I've ever read despite the flaws and not so phenomenal things, even though the amount of dragon books I've read in the past is relatively small. Goodman has certainly done
a fantastic job with the world building of the Empire of Celestial Dragons and the dragons itself
– a brief history of the Dragoneyes and the Dragons are compressed at the very beginning of the book (it was a bit confusing to me) and the rest is filled in throughout the process of the book.
I have to say I'm impressed. Quite impressed compared to my latest reads (Okay, they're not shabby, but I wasn't overly excited about them either).
The beginning of the book lacked a bit of what would have made the book so much better
. All Eon and the other Dragoneye candidates do is train, train, train. Eon is made fun of by everyone – including his Swordmaster! – because he's not like the others, etc. Basically, life is all about that misery for Eon and the book follows the same pattern over and over again: train, disdain, train, disdain, train, disdain.
Oh, and it doesn't help he's really a girl, though approximately 99.9% of the people don't know (they do know he's crippled). I'm pretty confused as to what gender to use in this particular review. That, however, does not mean I'm a sexist. All I can say to this entire ordeal is the mere fact that
it seems Eon is trying too hard to hide her true self
. Not a problem with me because of the time period Goodman sets
Eon
in. But with the amount of Sun drugs she takes later in the book – I think those so called Sun drugs are simply crack – in an attempt to connect with the Mirror Dragon,
it's really obvious Eon is desperate enough to fit in and prove herself worthy
of being a part of the Dragoneye council.
It's not until the anticipation of finding out who the new Rat Dragoneye apprentice will be does the book become interesting.
The majority of the rest becomes more of a political struggle
among the Dragoneye council and the Empire of Celestial Dragons as Eon continues her training as the one and only Mirror Dragoneye since the last 500 years, with the pressure of the Emperor's supporters resting on her shoulders.
Quite a burden to bear. Plus,
the middle seemed to drag a bit (read: political struggle)
. It even got to the point where
I actually thought Eon would be better off if the story had been split into two books and the series into a trilogy instead of duology
.
It didn't help with Eon as a character either. She is, by far, one of the most annoying characters I've ever met. Here's a bit of a sidenote: There aren't many Asians as main characters. They're usually the peeps on the sidelines, and even that rarely happens. When they ARE main characters, they're usually a sword-wielding, kick-butt, no-nonsense type of character (or they seem to be annoyingly stereotyped and I hate it, so I don't even bother reading it in the first place). And while Goodman does incorporate all of that in Eon's character (the kick-butt, not the stereotype),
it was still very annoying to see Eon puttering about and taking forever to connect the dots (read: desperate to fit in)
.
The ending gets better – much better – than the beginning and the middle
(read: beginning = training + disdain, middle = political struggle + desperation). The fantastic ending probably made up for the hiccups earlier throughout and possibly changed my mind about wanting to split the book in half.
Eon
is
a semi-phenomenal ending to a phenomenal idea in a not so phenomenal first book in a duology
, and I've yet to decide whether I should give the sequel a whirl to see if it improves compared to
Eon
.
Friendship is not something that can be forced.
(Except for one of my friends. According to him, he forced his way into us being friends. *sigh*)
4 Owls