Hello guys! Today is day 3 of our 12 Days of Diverse Reads thingy. If you don't know what that is, for the rest of 2016, we will feature a diverse novel coming out in 2017. Just saying, but might wanna add these to your TBR/Goodreads ;) Today, I'm going to be featuring Poison's Kiss by Breeana Shields.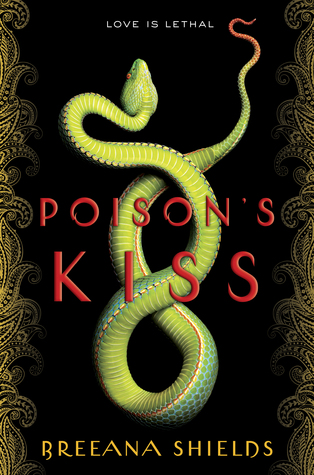 Poison's Kiss (Poison's Kiss #1)
Author:
Breeana Shields
Publication Date:
January 10, 2017
Publisher
: Random House Books for Young Readers
Links:
Goodreads
|
Amazon
A teenage assassin kills with a single kiss until she is ordered to kill the one boy she loves. This commercial YA fantasy is romantic and addictive—like a poison kiss—and will thrill fans of Sarah J. Maas and Victoria Aveyard.

Marinda has kissed dozens of boys. They all die afterward. It's a miserable life, but being a visha kanya—a poison maiden—is what she was created to do. Marinda serves the Raja by dispatching his enemies with only her lips as a weapon.

Until now, the men she was ordered to kiss have been strangers, enemies of the kingdom. Then she receives orders to kiss Deven, a boy she knows too well to be convinced he needs to die. She begins to question who she's really working for. And that is a thread that, once pulled, will unravel more than she can afford to lose.

This rich, surprising, and accessible debut is based in Indian folklore and delivers a story that will keep readers on the edge of their seats.