Hello! Today I have a wondering book that I'm doing a mini review! Let's hop right into it!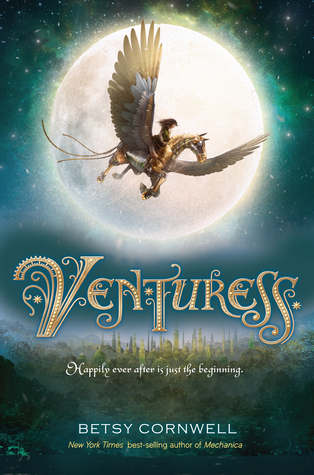 Venturess (Mechanica #2)
Author:
Betsy Cornwell
Publisher:
Clarion Books
Publication Date:
August 1, 2017
Young inventor Nicolette Lampton is living her own fairy tale happy ending. She's free of her horrible step-family, running a successful business, and is uninterested in marrying the handsome prince, Fin. Instead, she, Fin, and their friend Caro venture to the lush land of Faerie, where they seek to put an end to the bloody war their kingdom is waging. Mechanical armies and dark magic await them as they uncover devastating secrets about the past and fight for a real, lasting happily-ever-after for two troubled countries—and for themselves.
A special thanks to Tara from the publicity department of HMH Teen for sending me an ARC to read and review!
If you haven't read the first book,
Mechanica
, you should definitely read that first.
Mechanica
is a Cinderella retelling, but "Cinderella", or in this case Mechanica, is a mechanic and all she wants to do is go the t
echnological exposition in order to escape the clutches of her step-family. Venturess is about what happens after Nick starts up a very successful business.
This story has many unexpected twists which kept me on my toes when reading this! I loved learning about Faerie and all the inhabitants when Nick, Fin, and Caro venture there to possibly negotiate a peace treaty with the fae. I loved this story even more than the first because it continued the story of "Cinderella" whereas most Cinderella retellings stop after Happily Ever After.
Highly recommend this story to anyone who likes
fairy tale retellings!